Grabbing a quick, on-the-go snack or a full meal could not be easier at the La Crosse Regional Airport. Our robust amenities will help to make your trip comfortable and give you the peace of mind you need for a happy trip.
Service Hours: Opens one hour prior to the first scheduled departure and closes at the time of the last departures. Open seven days a week.
Arrowhead Tap House is a combination restaurant, bar and gift shop. Located post-security on the second floor of the LSE terminal serving breakfast, lunch and dinner, a full bar with local and regional beers, and specialty coffee and tea drinks.
Service Hours: Opens at 7 a.m. and closes 30 minutes prior to the last departure. Open seven days a week.
Full menu available to pre-security passengers and airport guests in addition to fresh bakery items, snacks and grab-and-go options. Bottled beer and wine available. Gift shop merchandise such as souvenir T-shirts, sweatshirts, glassware, postcards and greeting cards, along with health and beauty items, magazines and newspapers.
LSE understands your need to remain connected and offers free wireless internet access in the terminal building to make your trip more enjoyable. Connect to LSE-WiFi.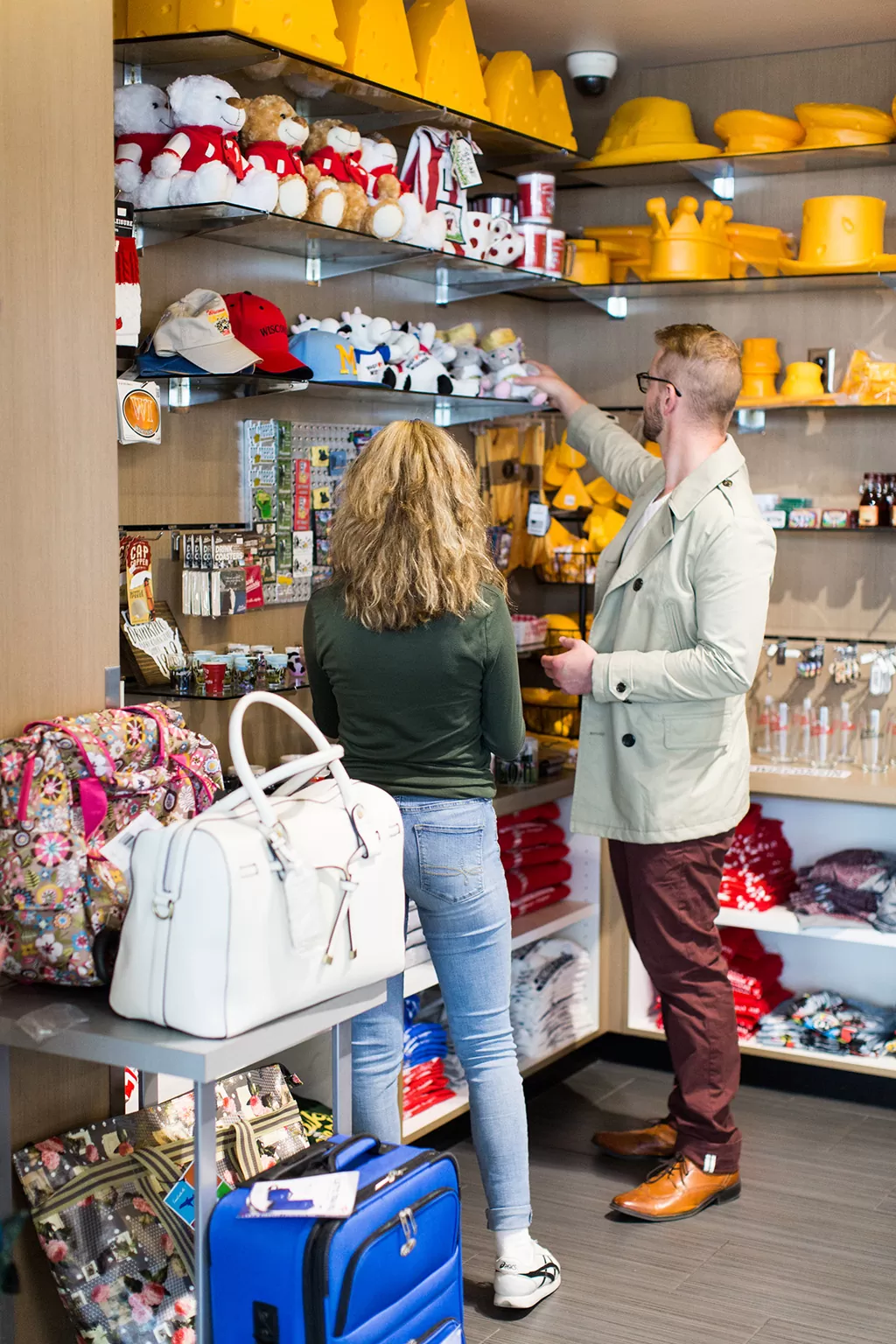 Make a quick stop by Arrowhead Grab n Go and take home some souvenirs, or pick up a magazine to take on your flight.
To ensure your flight from La Crosse starts without a fuss, LSE offers a Kids Play Area within the secure area for the youngest travelers. With room to move little ones can enjoy meeting Elsie, our mascot, view the airport through the air traffic control tower, or explore games and activities on our two iPad kiosks. The Kids Play area is located on the second floor of the terminal (post-security).
Sponsored by Coulee Parenting Connection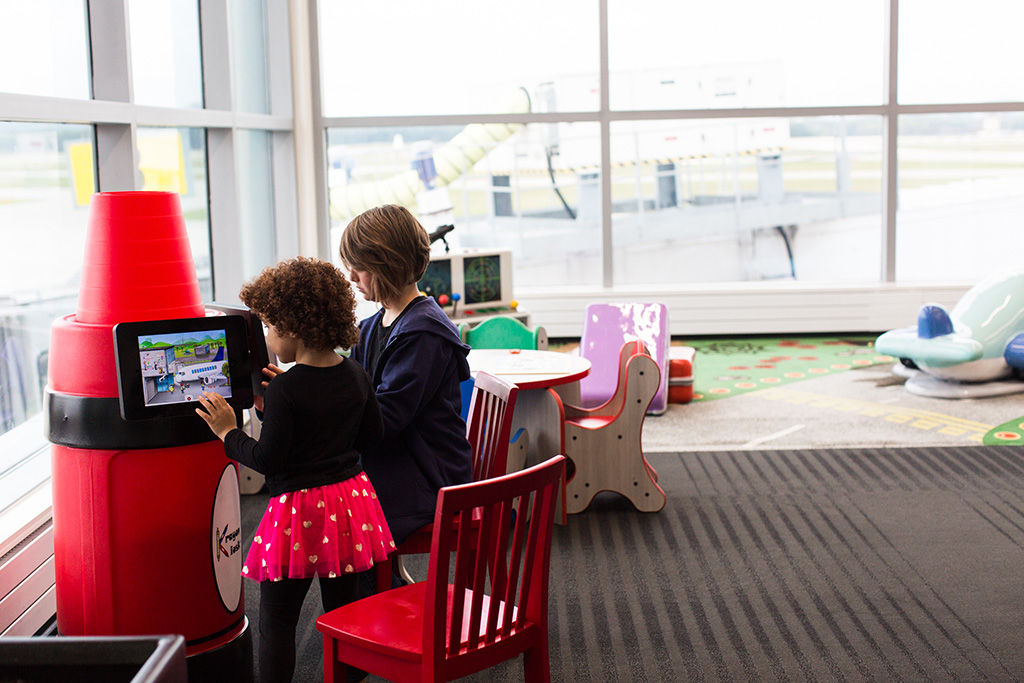 A private area in the terminal is available for convenience of nursing mothers. The nursing mothers room provides a lockable room with a reclining chair and convenient power outlet. It is located on first floor of the terminal behind the escalators (pre-security). Nearby, the family restroom offers a changing table and sink if needed.
Pet Area & Service Animals
La Crosse Regional Airport has designated Animal Relief Area for our passengers traveling with Service Animals. The pet relief area is a grassy area outdoors located on the north side of the terminal building (near the rental car parking lot, pre-security). The relief area is clearly marked and contains waste bags and a receptacle for your convenience. Thank you for cleaning up after your service animal.
For post-security pet relief, pee pads are available at airline counters.
Please note, all service animals anywhere on airport property, including the pet relief area, should be leashed at all times. All non-service animals or pets must be in a pet carrier within the terminal building.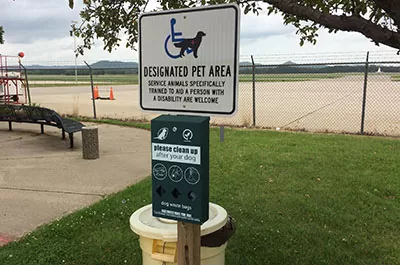 LSE's conference room is conveniently located on the first floor of the terminal building and is available to rent for corporate meetings, luncheons, and other events.
The conference room seats up to 49 and features a large touch screen monitor, video connection ports, in-ceiling sound, Blu-ray player, conference phone, Wi-Fi, and a sink. Modular tables and chairs are available for a multitude of arrangements. On-site catering is available from Arrowhead Tap House.
If you are interested in renting the conference room you can either schedule online or call the Airport Administration Office at (608) 789-7464. Room rentals are subject to availability and rates are as follows:
If you plan to schedule more often than one time we recommend using our online scheduling tool, Click Here to setup a new account, once we approve your account during normal business hours, you can then go ahead and schedule your room.
Basic room rental, up to two - hours: $35
Basic room rental, up to two-hours with Arrowhead Tap House food catering: $10
Each additional hour: $15/hour
Technology use (conference phone, display, audio/visual): $20
Set-up fee for specified table and chair layout: $20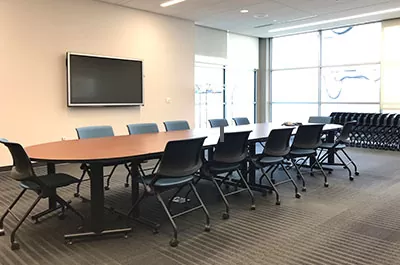 Our conference room offers you the flexibility and convenience of hosting corporate meetings and other events right in the terminal building.
If Lost in the Terminal
Items found in the parking lot or terminal building, including the checkpoint are sent to the Airport Administration Office. The Airport Administration Office is open 8 a.m. - 4:30 p.m. Monday-Friday. The Administration Office is located at the end of the hallway to the right of the escalators in the terminal building. To claim your items please visit the office in person or call (608) 789-7464.
If Lost on an Aircraft
Any items lost on an aircraft will be stored by the airline. Contact the Airport Administration Office at (608) 789-7464 to be connected to the local airline office to locate your item.