Parking at LSE is a Low Stress Experience. Short-term and long-term lots are close to the terminal building. Cash and major credit cards are accepted for payment. For parking information, please call
(608) 781-3155
.
La Crosse Regional Airport is located off I-90 (Exit 2) on the north side of French Island. If you have any questions, call the Airport Administration Office at (608) 789-7464.
For handicap parking assistance in the lot please call (608) 789-7464, selection option 3, then select option 5. We will provide assistance as soon as possible.
If you have a dead battery upon returning from your flight we are here to help! We have a mobile jump start system that we will lend to you to start your vehicle. We are unable to assist with the actual jump start but we can provide instructions on how to utilize the jump start system. To request this service please call (608) 781-3155 and select option 2 then option 5.
Short-Term 
First 20 minutes: FREE
20-60 minutes: $2.00
$1.00 for each additional 1/2 hour
$11.00 per calendar day
Long-Term
First 20 minutes: FREE
20-60 minutes: $2.00
$1.00 for each additional 1 hour
$8.00 per calendar day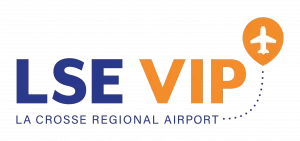 More information coming soon as we roll out a new parking rewards program! Questions on LSE-VIP? E-Mail us at [email protected]
Electric Vehicle Charging
LSE offers a Level 2 Electric Vehicle Charging station. Located in the short term lot on the right hand side towards the end of the row, the Level 2 charging station is on the ;ChargePoint Network and is FREE to use. To activate, wave your ChargePoint card or wireless credit card (no payment will occur), to activate the station using ChargePoint's mobile application, or call the phone number listed on the station. Once activated simply plug your car in the power up.